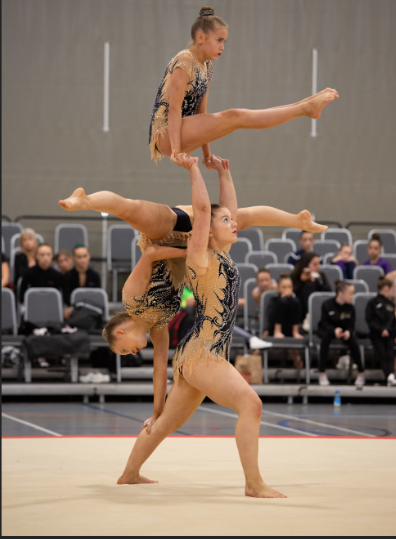 31 October 2022
SEA gymnasts were competing at the prestigious South Tyneside International Acro Cup at the Stadium of Light in Sunderland and had great success.
Emma G (8B) and Holly W (11H) competed against Mia E (11M) and Ava E (9S) in the hugely competitive FIG (Federation International de Gymnastique) 11-16 category with their trios. They were up against top class opposition - some who have represented their country and won in international level competitions recently. They performed brilliantly in such a high standard of competition with Holly and Emma finishing 5th and Mia and Ava 8th out of 17 trios.
Isla C (8B) won a gold medal in the Grade 3 Women's Pairs with her partner Libby W (a future SEA student!) in huge category of 27 competing pairs.
Isobel S (9H) won gold in the Grade 4 Women's Groups with her trio.
They won by a huge margin with a fantastic score of 26.150.
Hannah G (7G) and Eva B (8S) competed with their trio in the Grade 3 Women's Groups and performed beautifully to finish joint 7th out of 25 trios with Hattie L (7G) and her trio - both achieving the exact same score!
H Lloyd (Back Right)
Eva B (Back Left) and
Hannah G (Back Right)
Holly W (left) and Emma G (top) Mia E (bottom) and Ava E (top)