Evie's doing swimmingly well!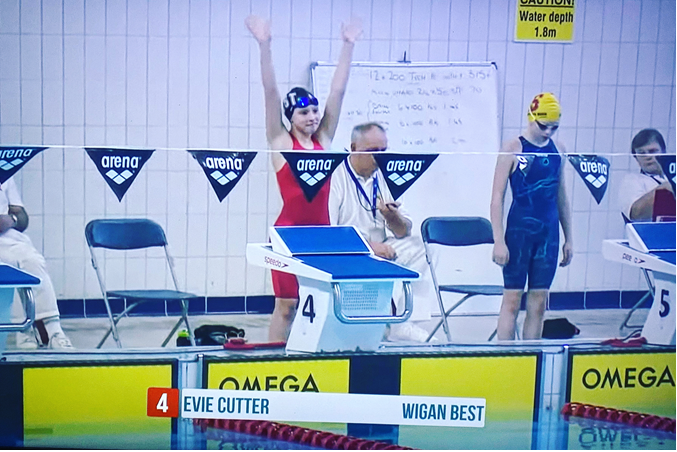 31 January 2022
It's all going swimmingly well for Evie …
Early mornings, hard work and dedication have definitely paid off for one amazing Year 8 student – 13 year old, Evie Cutter.
Evie found out this month, that she has been chosen to represent North West Schools in forthcoming swimming events, with her first competition taking place in Coventry this March, where she will compete against other swimmers from across the country. In the lead up to this event, Evie managed to win another 4 medals at the Lancashire championships, including 2 gold medals for 50m backstroke and 100m freestyle - putting her tally to 8 medals so far with one more weekend to go before the competition in Coventry.
Evie says that she feels "very excited. This is a massive thing for me, after all my hard work, I just want to do my best".
Evie's punishing training routine regularly sees her at the poolside at 5.30am, where she spends an hour and a half training before heading off to school for a full day's learning.
The support of family and friends has played no small part in Evie's success and she acknowledges the careful balancing act between home, school and training. "I'm really grateful to everyone" she says, "especially my Dad, who drives me to my early morning training sessions. My friends at school have been incredibly supportive too". When asked what her hopes are for the future, Evie replies "I want to go as high as I can. I would love the opportunity to swim for England one day".
We are immensely proud of Evie's outstanding achievements. She displays all the qualities that we pride in our students and her hard work, courage and determination have clearly paid dividends for her.
We wish Evie every success for the future and will be following her swimming career very closely.
From everyone at St Edmund Arrowsmith CHS, "Many congratulations for your outstanding success and good luck in March!"