Megan Marches with the Military Parade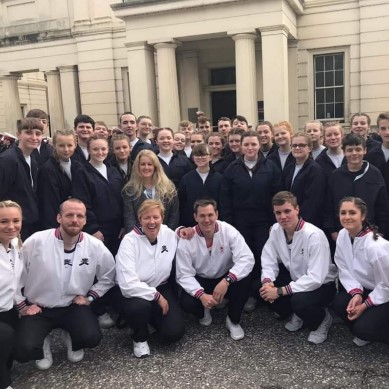 8 November 2019
On the 17th of October I got the chance to perform with the Cadets in London. I got on the coach for a long 8-hour drive to Portsmouth, the drive down there felt like forever so I was glad to be sitting next to one of my best friends.
On the first day, we settled down into our rooms and luckily I was in a room with people I knew. We went down for dinner and it was so yummy (we had Korean chicken). After some late night chatting, we settled down for bed. I felt so lucky that we were staying on a Naval Warship, it was massive! The beds were really uncomfortable but I could deal with it for a few nights.
The next morning, we woke up at 5:30 am and had to be up and ready on the flight deck (which is a place where planes and helicopters can land). We got back onto the coach and went to another Navy base which was called HMS Nelson. We ate breakfast together which was great, then we walked to a training centre where we practised our routines and got our uniforms ready. We practiced this routine until the Sunday, I was on the third row which I was really pleased about.
On the Sunday morning, the day of the Military Parade we got up at 4:30am to eat breakfast together and to get all of our bags boarded ready to set off to London. After a 2 hour drive the nerves started to kick in and I started to feel a bit sick with anticipation. Once we arrived at our destination in London, we marched to the horse guard and waited till it was our go. When we started to run on and I put the clubs in the ready position all of my nerves just went and I performed to the best of my ability. It was amazing! After that, we marched down the Mall to Wellington Barracks, which was really enjoyable. Finally, we ate some tea, sat on the coach and relaxed on the long journey home. What a fantastic experience that I will never forget.
Megan S 8A